Archive for the '"I Feel Suicidal" – A DBT Adventure in Emotional Choices' Category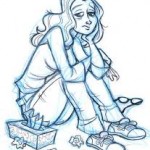 This set of web pages intends to create an opportunity to learn emotional regulation skills in an interesting way, by following the story of a suicidal young woman named Amy as she makes choices about what to do to either calm down or try to kill herself. Like the choice adventure books my kids read in the 80's, these pages allow readers to periodically decide what path to follow, and experience the consequences of their decisions.
PLEASE BE ADVISED THAT THIS MATERIAL COULD BE TRIGGERING FOR SOMEONE WHO IS OR HAS BEEN SUICIDAL.  I WILL MAKE EVERY EFFORT TO FREQUENTLY OFFER SAFE ALTERNATIVES AND SOOTHING THOUGHTS FOR READERS TO VICARIOUSLY EXPERIENCE, AS WELL AS TEACHING LIFE SAVING DBT SKILLS. DESPITE THAT,  SOME OF WHAT I'M PRESENTING IS FRANKLY AND DRAMATICALLY NEGATIVE, AND PUTTING IT IN FIRST PERSON PRONOUNS MAY BE MORE TRIGGERING THAN IF IT WERE PRESENTED AS HAPPENING TO A THIRD PERSON.
IF YOU ARE FEELING IN DANGER OF MAKING A SUICIDE ATTEMPT, PLEASE REACH OUT FOR HELP AND FIND A WAY TO AVOID DOING SOMETHING FROM WHICH THERE MAY BE NO RETURN. CALL YOUR THERAPIST OR LOCAL CRISIS LINE, GOOGLE SUICIDE PREVENTION, OR REACH OUT TO A FRIEND OR RELATIVE YOU TRUST. THERE IS NEVER A GOOD REASON TO KILL YOURSELF, WITHOUT LENGTHY DISCUSSION WITH AN EXPERT MEDICAL PROFESSIONAL. GET HELP, AND FIND ANOTHER WAY!!!
Amy's Story
"My name is Amy and I want to die!! I'm almost 35 and I have no friends!!   Cheryl and I had a big fight tonight and I hate her so much!!  She's a total bitch and I should never have trusted her. I can't stand my life!!  I think I'll take those pills I found in Tina's room. If l were dead, I wouldn't feel so bad. Crap, I wish I hadn't promised Michael I wouldn't try to kill myself before our next session. I shouldn't have promised I'd call him if I got above 4 on my diary card. Fuck!!!  I'm so mad!! I just want to die!
IT'S YOUR CHOICE – What will I do?